Are you searching for a trusted bathroom renovation specialist in Winnipeg? Do you want a company with extensive experience in remodeling bathrooms, ensuites, or toilets in Winnipeg?
No matter if you want to change the layout of your bathroom, like moving walls or rearranging your bath, sink, or toilet, or if you want to completely transform your bathroom, our skilled team at Bathroom Remodelers of Winnipeg is here to assist you.
We start by planning and designing your project carefully. We'll help you pick the right materials, fixtures, and colors to achieve the look you want for your bathroom. Our team of bathroom renovation experts collaborates closely with you to turn your bathroom ideas into reality. Our team includes trained carpenters, plumbers, and tilers, led by a fully licensed builder. They have years of experience in renovating bathrooms, ensuites, and laundries. This means they can offer you the best advice on design, materials, and product choices.
Bathroom Remodelers of Winnipeg Got You Covered!
Our professional and experienced team of bathroom renovation specialists handles every aspect of your bathroom renovation project. We provide a complete service, from understanding your preferred style and creating functional designs to helping you choose the best brands and products to match your preferences and budget.
We take care of the demolition and cleanup and plan and coordinate the entire construction and installation process, ensuring your project is seamless from start to finish.
Bathroom Remodelers of Winnipeg is the go-to expert for bathroom, ensuite, and laundry design and renovation in Tindale Park, River Heights, and Rivendale.
Our Bathroom Renovation Services
Your bathroom is one of the busiest spots in your home. It's where you kickstart and wind down your day, so it should be a place you adore. A bathroom makeover is like an investment that pays off in more comfort and adds value to your home. We've designed our bathroom remodel process to make your life simpler. We begin by having a chat to understand your vision. Then, we carefully plan and execute with precision. We use high-quality materials and stay in touch with the latest design trends. We also care about the environment, just like you do. That's why we provide fixtures that save energy and eco-friendly choices to reduce your carbon footprint while cutting down on utility costs.
If you're aiming for a total transformation, our complete bathroom renovations are the way to go. We take care of plumbing, electrical, and structural issues to create a bathroom that's not only beautiful but also practical. We believe that your bathroom should reflect your unique style. That's why we provide options for customization to tailor your renovation to your preferences. We know you have questions about the timeline and budget. Our team will work closely with you to create a realistic plan that meets your needs and expectations.
Showers and bathtubs aren't just places to get clean; they're personal havens for relaxation and rejuvenation. We can help you choose the perfect shower or bathtub to suit your needs. From modern and sleek to classic and cozy, we offer a wide variety of shower and bathtub options. Choose the style, size, and materials that match your taste and space. Our expert team ensures a hassle-free installation process, so you can enjoy your new shower or bathtub without any worries. Convenience and functionality are our top priorities.
The choices you make for tiles and flooring can make or break your bathroom's design. We offer various materials, including porcelain, ceramic, and natural stone, to create the perfect base for your space. Our materials are not only beautiful but also functional. They're waterproof and easy to clean, making your life more straightforward. Invest in materials that stand the test of time. Our tile and flooring options are known for their durability and longevity.
Here are some of the list of services we've provided to our clients:
Bathroom Renovation Process
Are you dreaming of a beautifully remodeled bathroom in your Winnipeg home? Our bathroom installation services in Winnipeg are here to turn your vision into reality. With a team of experienced professionals, we offer quality bathroom installation and renovation solutions to transform your space into a functional and aesthetically pleasing oasis.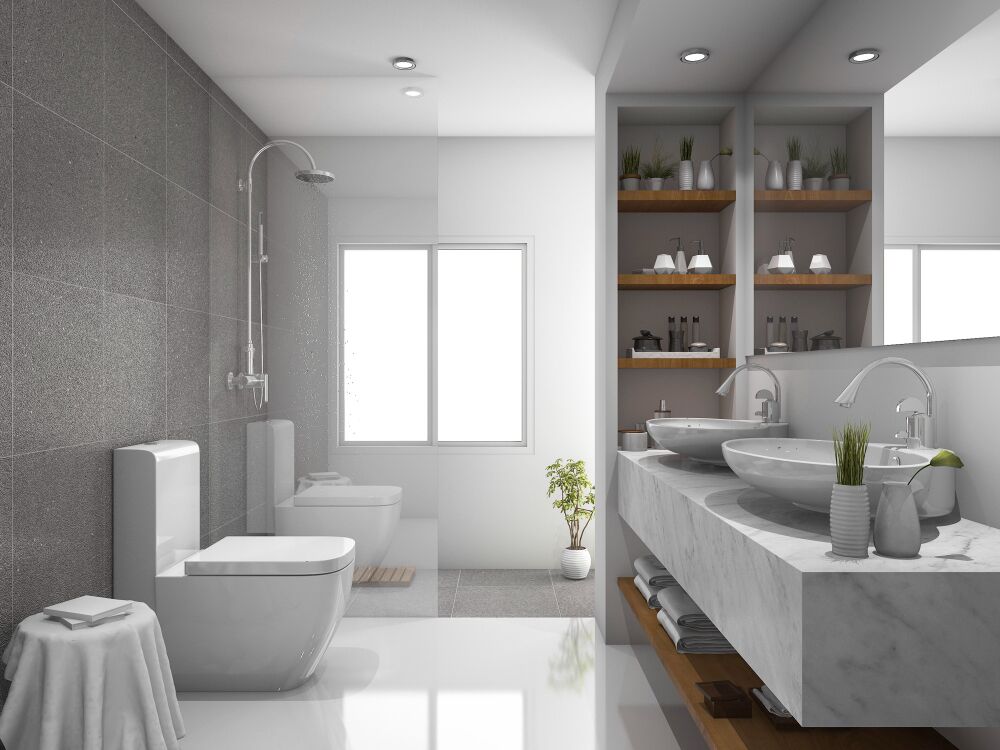 3 Easy Steps to Start Your Bathroom Remodel in Winnipeg
Starting a bathroom remodel in Winnipeg can be an exciting endeavor. To help you get started, here are three easy steps to initiate the process:
By following these three simple steps, you'll be well on your way to starting your bathroom remodel in Winnipeg. Clear goals, a defined budget, and a well-thought-out plan will set the foundation for a successful renovation project that transforms your bathroom into the space of your dreams.
Transforming your bathroom in Winnipeg has never been easier. Contact us today to schedule your consultation and get started on the path to a stunning bathroom renovation. Your dream bathroom awaits!
Frequently Asked Questions
How long does a bathroom remodeling project typically take in Winnipeg?
The duration of a bathroom remodeling project can vary depending on the scope of work, but on average, it may take anywhere from two to six weeks. Our team will provide a detailed timeline during the planning phase.
What permits are required for bathroom renovations in Winnipeg?
The permits needed for a bathroom renovation can differ based on the extent of the project. Generally, minor cosmetic changes may not require permits, but significant structural alterations or plumbing/electrical work often do. Our experts will guide you through the permitting process.
How can I estimate the cost of my bathroom remodel in Winnipeg?
Bathroom renovation costs depend on factors like the size of the bathroom, the materials chosen, and the complexity of the project. We offer free consultations and can provide a detailed cost estimate based on your specific requirements.
Do you offer design services, or should I hire a separate designer for my bathroom project?
We offer comprehensive design services as part of our bathroom remodeling packages. Our experienced team can help you with layout, fixture selection, and overall design to ensure your vision is realized.
What steps can I take to maximize energy efficiency and sustainability in my bathroom remodel in Winnipeg?`
We can suggest energy-efficient fixtures, LED lighting, and environmentally friendly materials for your project. We can also guide you on how to reduce water usage through efficient plumbing choices.
What type of warranty do you offer for your bathroom remodeling services in Winnipeg?
We stand by the quality of our work and offer a warranty on our craftsmanship. The length of the warranty may vary depending on the specific project. We will provide detailed warranty information during the consultation.
Let Us Help You Find Winnipeg Bathroom Renovation Specialist
If you are looking for the best basement renovation company and you will be well on your way to the siding services you are seeking.